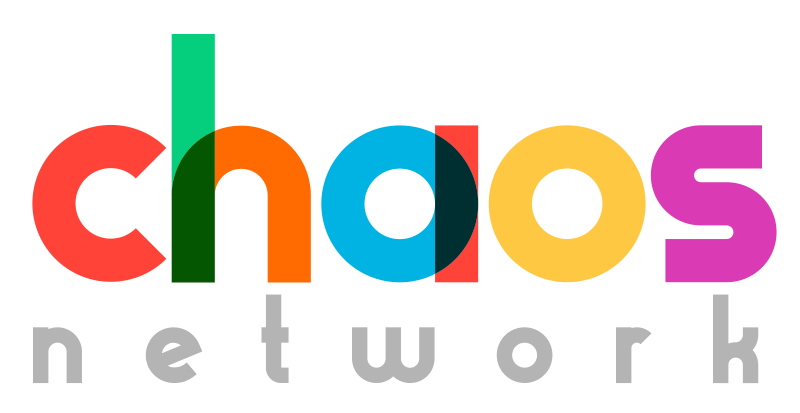 Hope you're all having a good week so far.


Thank you to everyone who got in touch to share their events and opportunities. It seems lots of you are already very busy this year!


A reminder that our next virtual get together is Monday 28th March @1pm. After two years of online meetings, this one will finally be

in person!

We'll be meeting at MAST

and we can't wait to see your faces in the flesh again!




From this month, we'll be mixing up the time and place of CHAOS meetings a bit which will hopefully more of you are able to come along. We'll be alternating between Mondays, Tuesdays and Saturdays, still switching between morning and evening sessions on the weekdays. We hope to keep evening sessions online and meet in person for the morning ones. If that all sounds a bit confusing, here are the next three dates for your diary :)
Mon 28th Mar 10am (in person at

MAST

)
Tues 26th April 6pm (online)
Sat 28th May 10am (in person)
This month, It'll be the usual CHAOS set up with plenty of time to say hello, and catch up on what everyone's been up to.


Here are the next couple of meeting dates for your diary:
Monday 28th Mar @ 1pm - In Person! MAST
Tuesday 29th Mar @ 6pm - Online
Saturday 30th April @ 10am - In Person, location TBC
Now it's time to take a look below to the brilliant things going on in the City over the next few weeks, including talks, workshops and opportunities to get involved.


If you didn't already know...

What is CHAOS?: The CHAOS Network aims to bring together the Creatives, Heritage and Arts Of Southampton. Whether you are a creative business, a voluntary arts group or an independent artist, we'd love to see you at the next network meeting, everyone is welcome to discuss all things cultural in the city. Bring your news and events, do some networking and have a coffee with us (virtually!).


Becky Honeycombe-Foster
CHAOS Coordinator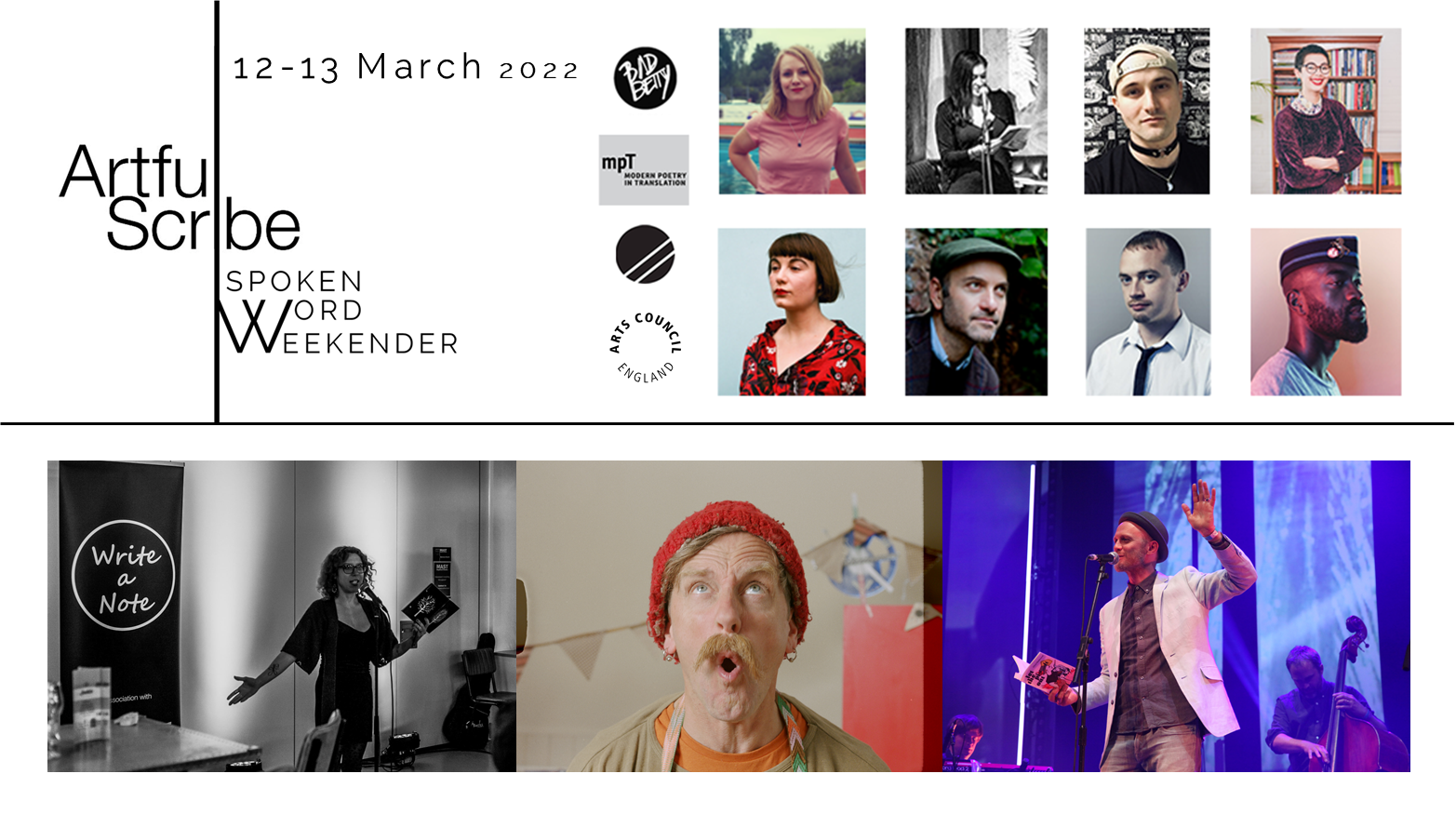 ArtfulScribe & MAST Mayflower Studios present: ArtfulScribe's Spoken Word Weekender, supported by Arts Council England
12/13 March
This weekend takeover event features performance showcases from the UK's most innovative small presses, writing, editing & translation workshops, as well as an edition of Write-A-Note and the ArtfulScribe Community Showcase.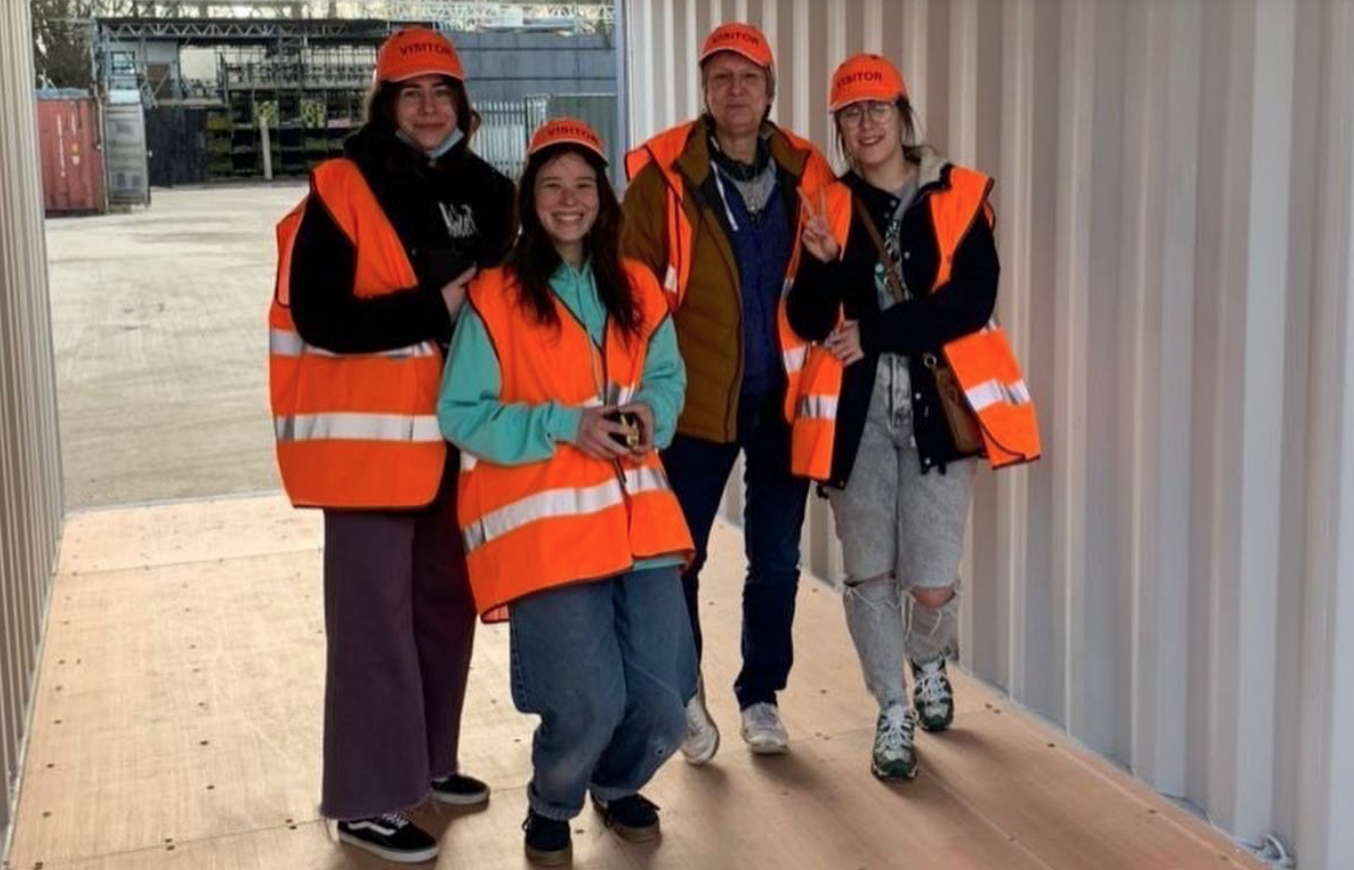 we are a group of Fine Art students on our second year at Solent University who are currently putting together our first group exhibition 'Connections'.
Through the title 'Connections' we will showcase our group's explorations and interpretations on this vast theme, the 'Connections' between the city of Southampton, its people, and ourselves, with a group of students coming from various corners of the UK and Europe.
This exhibition will create an opportunity for you to not just come and meet the new and upcoming artists of Southampton, but also the world, and to experience their works and thoughts connected to this amazing city right on its very own streets.


Come and join us at Guildhall Square from the 2nd to the 6th of April, 12-6pm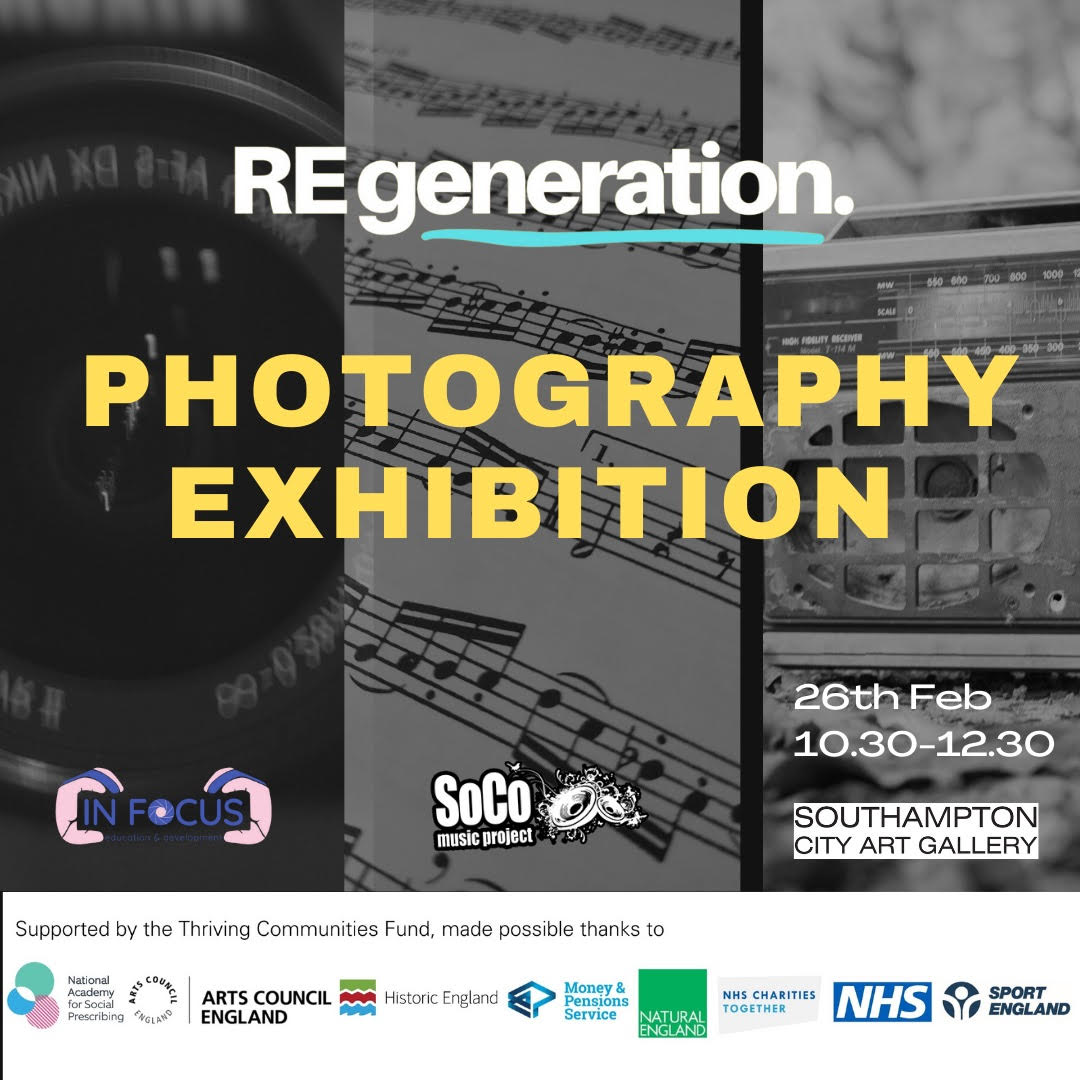 In Focus is proud to announce the exhibition of photography music and lyrics by young people from the NHS RE:Generation project, in partnership with In Focus and SoCo music, is opening on the 26th Feb at Southampton City Art Gallery!
The work was produced by participants both in-person and online via Zoom presentations over 6 weeks, with some amazing results that are totally worth checking out!
Or follow us on Instagram (in_focus), our Facebook page (infocuseduuk) or our twitter (in_focuset) for updates on this, as well as regular news about photography, arts and learning in and around Hampshire.

Artswork are running 'Have your say on our future business plans' Zoom sessions. We'd love to hear from Southampton creatives. Upcoming dates are: Monday 28 February 4.30-5.30pm; Tuesday 1 March 2.00-3.00pm.
If people can't make either of the online sessions, we are also running an online survey which is open until 20 March.


Artswork's growing 'on demand' online training offer now includes 'Artswork Inspires' – 12 lessons to empowers you to find confidence and joy on your creative career journey – as well as courses in Equality and Diversity, Child Protection and Safeguarding. Full information and booking here


Peer Action Collective launch event
Unloc Changemaker Studios, Portsmouth Guildhall. Guildhall Square, Portsmouth, PO1 2AB


Peer Action Collective is a programme of peer-led research into youth violence facilitated by Artswork, in collaboration with Unloc and Youth Options, with funding from the Youth Endowment Fund and the Co-Op.


The event will see the peer-research team launch the project and talk through the research areas, along with a Q&A session and a talk from Unloc about the Changemaker phase. Event details are below, and more information can be found here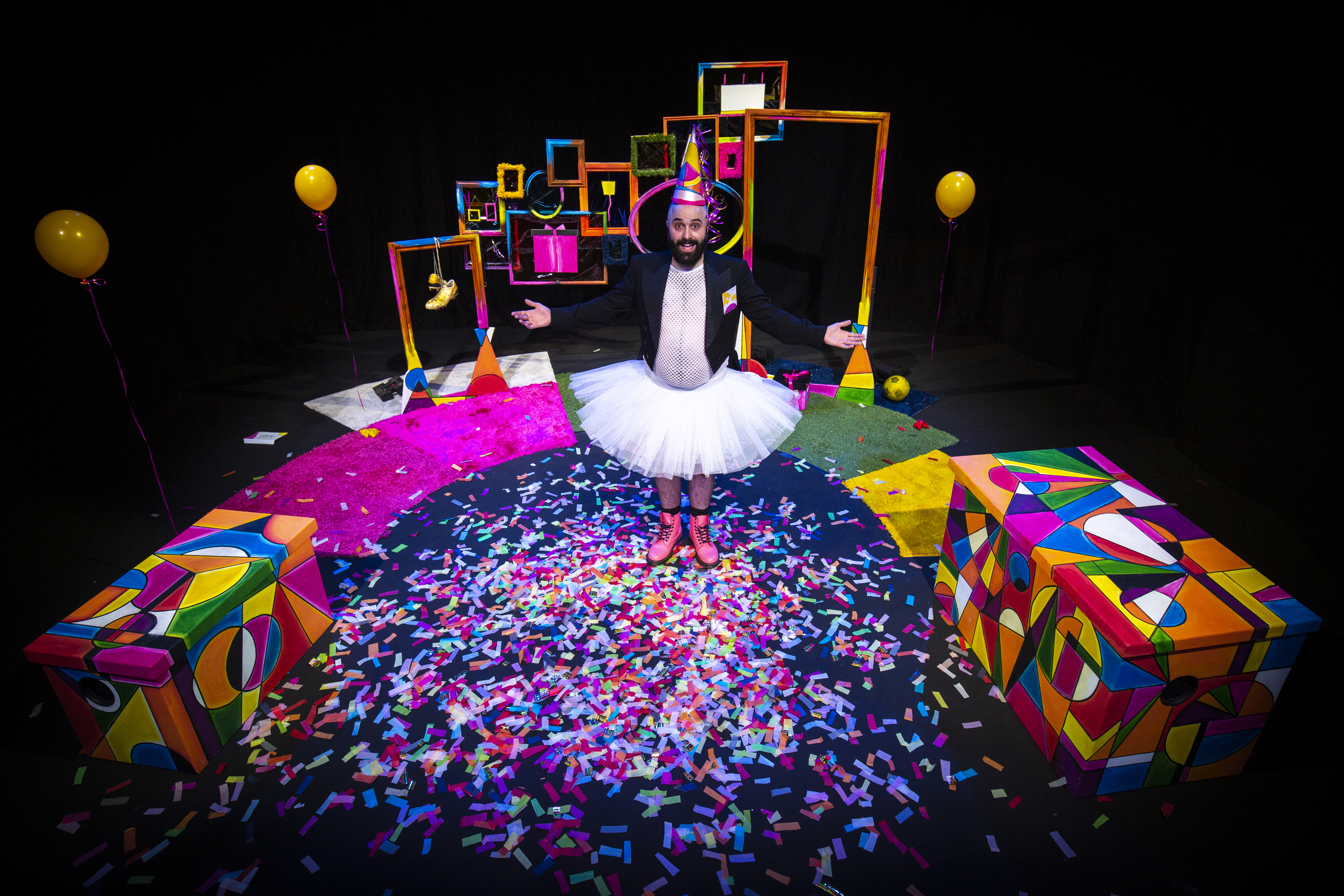 Thursday 3
rd
March 7.30pm
Put your party crew together! It's Stick of Rock time as our Cabaret Club 'Springs' back into action showcasing some of the best comedians on offer from the UK cabaret comedy circuit, with a touch of end-of-pier charm.
We've whipped up an amusement arcade of talent for your entertainment, with ukulele-playing cabaret host and musical comedy performer Desmond O'Connor; skilful, cheeky (and very silly!) circus from pint-sized powerhouse Abigail Collins; madcap comedy from the Errol Flynn of the high-street,
home-schooled
1930's throwback Troy Hawke; and the one-and-only star of Britain's Got Talent, the keyboard-comedy-genius that is Robert White.
Afonso wants to go to his best friend's birthday party, but where is his invitation - has it been lost in the post, or maybe he wasn't even invited?
Heartfelt,
provocative
and full of quirky humour, Party features striking, colourful designs and a glorious contemporary soundtrack. Let the warmth of a Portuguese summer take you to a place where difference is something to celebrate.
Part of our Family Takeover Day -
a day of family friendly
, party-inspired
creative activities
.
Come and unwind after a stressful week at one of our Comedy Network comedy club shows. Gather your friends, grab a drink from the bar and enjoy laugh out loud comedy from some of the hottest comedians on the circuit.
8
th
March
line-up:
Garrett Millerick,
Ania
Magliano & Jarlath Regan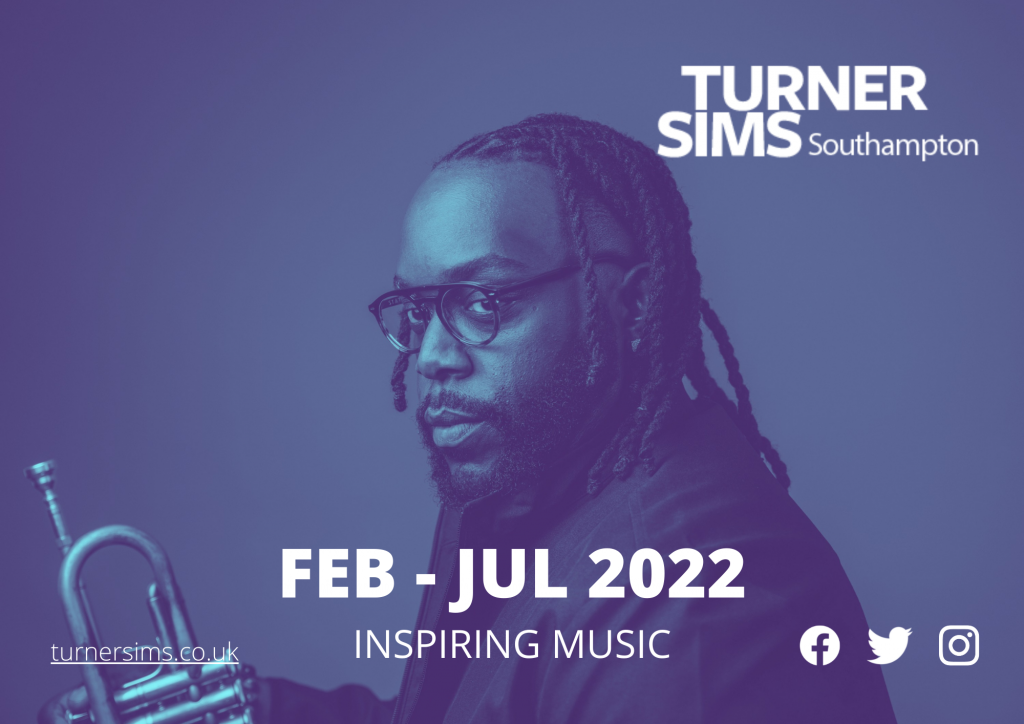 TURNER SIMS SOUTHAMPTON ANNOUNCE NEW EVENTS FOR 2022
Turner Sims Southampton are excited to announce the next wave of events through to July 2022. Highlights include two visits from Associate Artists, the

Chiaroscuro Quartet, including an exclusive collaboration with pianist

Cédric Tiberghien. Jazz pianist

Tord Gustavsen

performs with his trio in May, whilst more pianos feature in a

Music and Archaeology Discovery Afternoon

hosted by

David Owen Norris. Pianist

Mishka Rushdie Momen

makes her Turner Sims solo recital debut, hot on the heels of her Sky Arts Award nomination in 2021. Distinctive sounds come from ensembles as diverse as saxophonist

Issie Barratt's 10-piece band

INTERCHANGE, Will Guthrie's gamelan collective

Ensemble Nist-Nah, and

Dan Mar-Molinero's new group which explores the possibilities of jazz and Artificial Intelligence with guests

Jasper Høiby

and

Julian Argüelles.


Vocal music ranges from

Welsh National Opera's

Opera Classics

to folk with

The Unthanks;

Clara Sanabras'

Songs of Spanish Exile

with community choir

USV

to the captivating sounds of Saami singer

Marja Mortensson. International visitors in the jazz programme include two US artists showcasing new material: trumpeters

Theo Croker

and cover artist

Marquis Hill. Former Leeds Piano Competition winner

Eric Lu

is the first name announced for the

Turner Sims

Summer Nights

series, which returns in July.


For more details, check out the new Digital Brochure here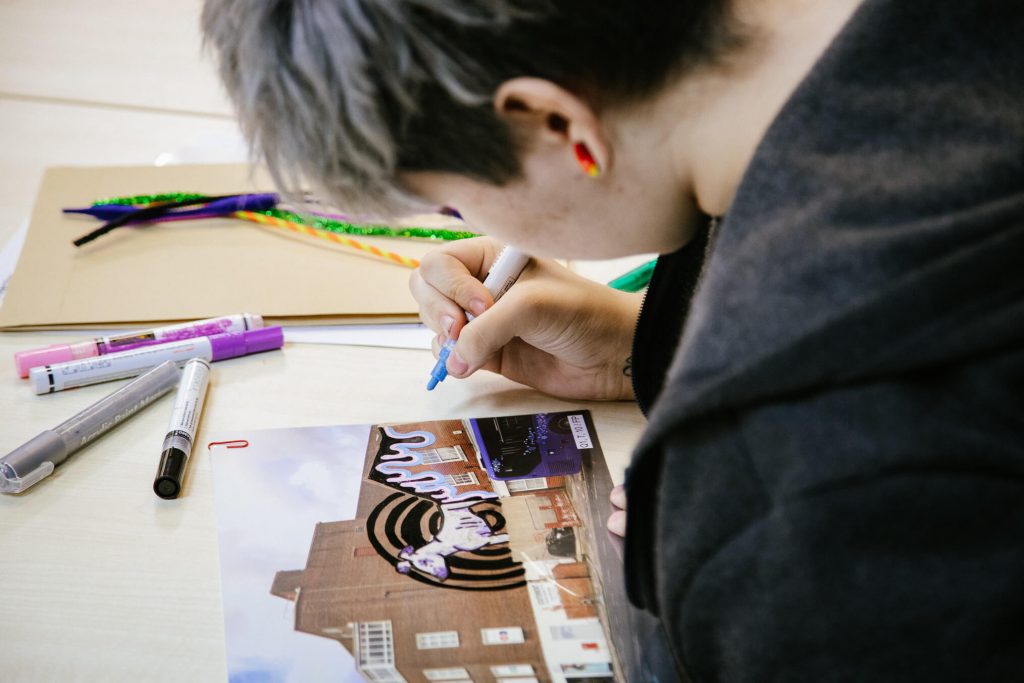 OPPORTUNITY: Freelance Contract with Southampton CEP – Project Manager, Better Lives Through Culture
Timescale: April 2022 – May 2023, with potential to extend
Budget: Up to £50,400 (based on average of 12 days per month, over 14 months), inclusive of VAT and all expenses
Deadline: Friday 18 March 2022, 5pm
Interviews: 30 March – 1 April 2022 (Virtual or in Southampton)


Southampton Cultural Education Partnership (SCEP) is seeking an experienced freelance contractor/cultural project manager to work with the SCEP Steering Group and members. The contractor will be responsible for project managing the delivery of Better Lives Through Culture (BLTC), an exciting project to galvanise cross-sector expertise to ensure children and young people that are at risk, disadvantaged, marginalised, not in education, employment or training benefit from cultural education


This contract requires effective project management, monitoring, consultation, supervision, communication and evaluation.

FULL BRIEF AND TENDER SUBMISSION DETAILS HERE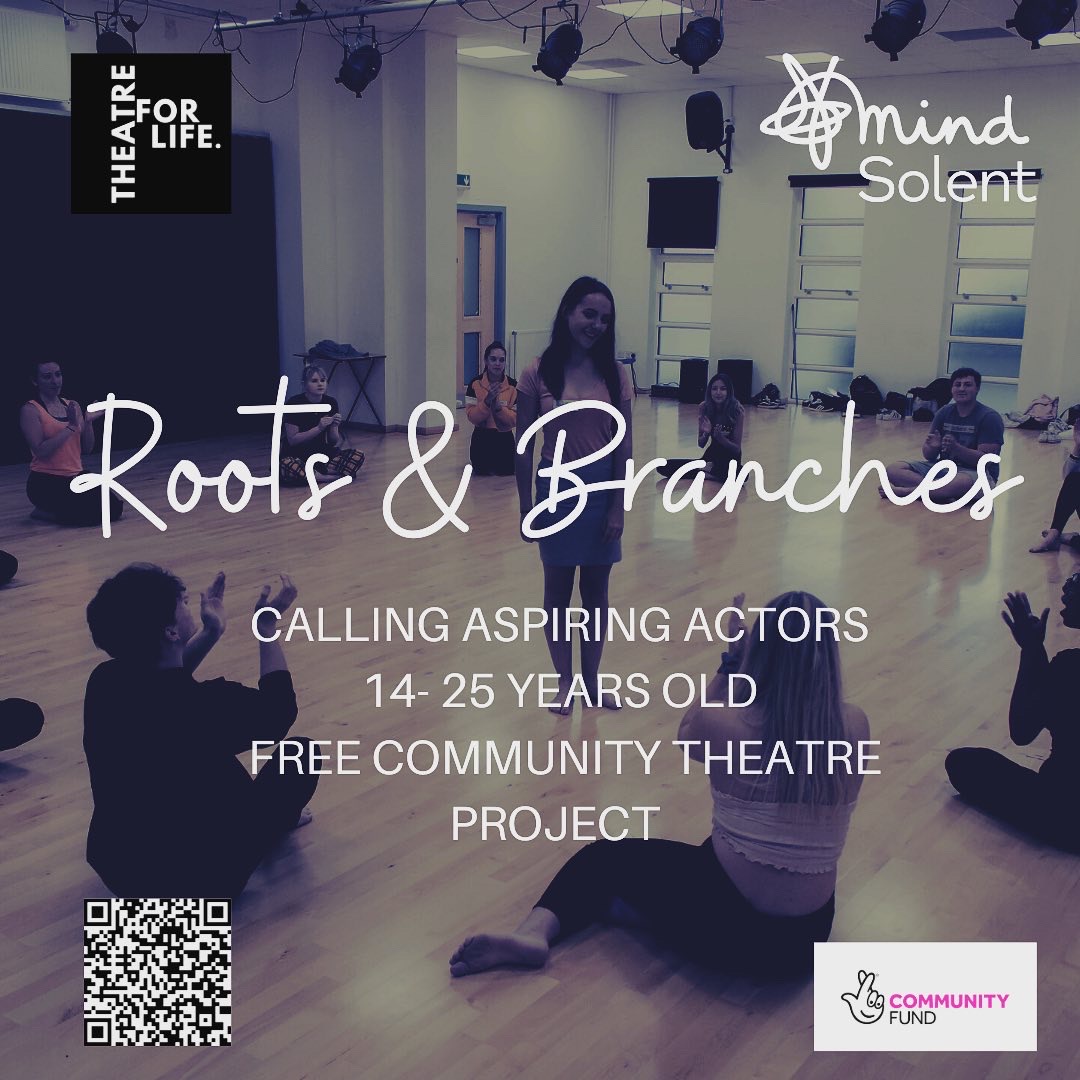 Do you know any aspiring actors aged 14-25 years old living in Hampshire interested in joining our new theatre project 'Roots & Branches' in partnership with

SOLENT MIND ?
As a youth led company we are looking for aspiring theatre makers to be at the forefront of the creative process, they will have the opportunity to work with professional theatre makers and writers to devise this unique piece of theatre.
'Roots and Branches' is an opportunity to connect generations as we celebrate and capture the life stories of our dementia participants. We will be capturing real stories dating back to the 1950's through to modern day, retold by our youth performers through live theatre and storytelling. Our play will also be raising awareness around dementia for audiences.
Through 'Roots & branches' we want to encourage hope, insight and joy, an opportunity to move forward through interaction and intergenerational understanding.
Open call for photography on the topic:
Deadline: 15th March 2022
Subject: Images that reflect where we are NOW at this point in the COVID pandemic e.g. Images that define THIS moment in time, 2 years after the beginning of the pandemic, Self-portraits, street photography, landscapes, snapshot images - things that define how the world has changed, and/or how things might have changed since the very first lockdown, etc.