Spotlight on... Will Rosie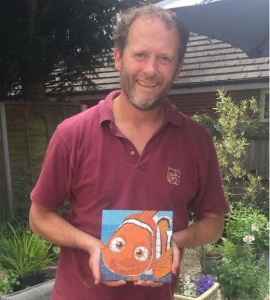 Will has two jobs, which he says are "both really cool." He's well known for being Southampton's Mr. Mosaic, creating a trail of over a hundred small mosaics dotted around the city, along with several bigger, commissioned pieces. He also works as a funeral minister or celebrant.
Will fell into both careers "accidentally".  After many years as a youth and community worker, he started landscape gardening but soon had to stop due to a back injury. As he lay on the floor wondering how to pay the bills, Will got a phone call from a youth worker asking if he could run a graffiti workshop — and quickly said yes. This was followed by several other commissions to run art and community workshops for young people, with Will learning as he went. Soon he had gained a reputation for being "all about youth enrichment."
Breakthrough
Will's big mosaic breakthrough came after a community garden he had been working on gained extra funding to add mosaics to the recesses there. Putting himself forward to manage the project, Will began calling up production companies and finding out how to build mosaics and source materials. He then helped to create the mosaics as a community training project, and from that point "people just kept coming" to him and asking for mosaics.
"Just for a laugh" Will started to put up small mosaics around the city, hoping to create a permanent art trail people could follow. "Everybody in the city fell in love" with them, he says, and Will now gets frequent private commissions from people wanting their own mosaic Mister Man or Little Miss. Recent recipients have included a park keeper and councillor, and these commissions help to support the work Will does around the city for free.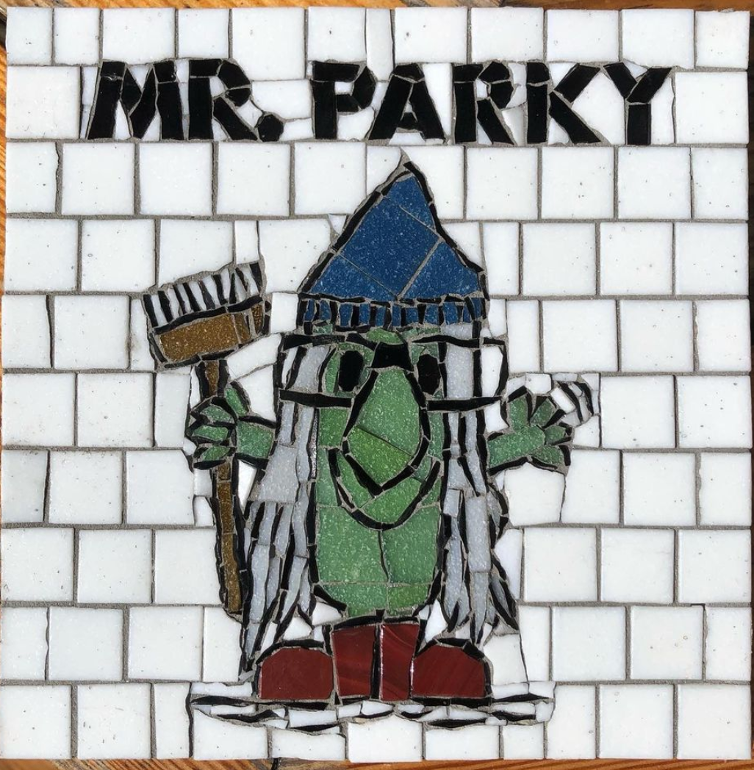 As for funerals, Will started off being a celebrant as a favour for friends and family after discovering it's something "anyone can do." He met bereavement DJs at the crematorium to find out how it all worked, then introduced himself to directors in the city. A few years later, he's now an established funeral celebrant. 
Inspirations
A big inspiration for Will's mosaics has been Craig Bragdy who makes huge, bespoke mosaics, mainly for swimming pools.  Working in malleable clay, Bragdy etches out designs of fish, corals and sharks, then breaks the design down into small sections which are painted and fired before being shipped them to their final location and put together like a jigsaw. 
Another inspiration for Will is fellow mosaic artist Ruth Ames-White, who is currently working on a thirty square metre mosaic of the city of Wells, getting the local community, including individuals and businesses, involved in sponsoring and creating different parts. It's something Will is really interested in translating into a similar project in Southampton.
Works
Asked to reflect on his proudest achievements, Will singles out his large mosaic of the Mayflower, which is currently on display in the Marlands Shopping Centre. "It was," he says, "a complex and technical piece, but it came together really well." He's also proud of winning the Guinness World Record for the largest coin mosaic.
Will also takes a lot of joy from the mosaics he has put up around the city. He regularly gets messages from Southampton residents telling him how much the pieces mean to them. Recently, he heard from a woman who, while recovering from an operation, used Will's mosaics as markers for her recovery, and burst into tears when she managed to walk as far as "Mr. Hope" at the end of the bridge near her house.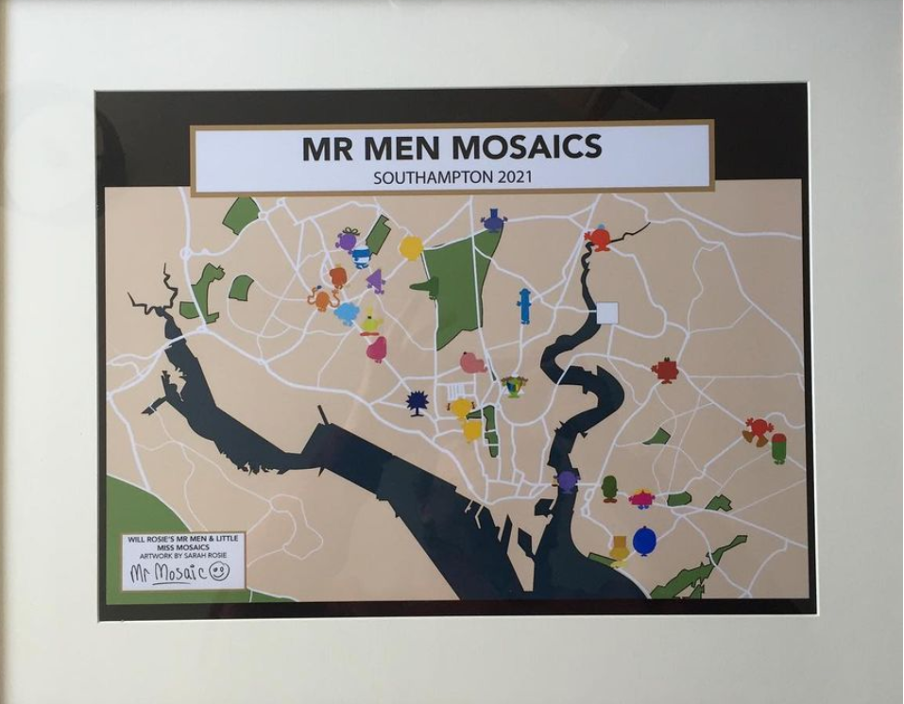 Current projects — and what's next
Will's currently working on a "cracking project" with Southampton City Council. As part of the redevelopment of some local flats, he'll be working with the nearby community, and teaching them how to design and make mosaics to decorate a "henge" of new seating.
Will is also keen to bring a version of mosaic creator and designer Ruth Ames-White's 'Wells' project to Southampton, perhaps as part of its bid to be named City of Culture. Will would love to get as many people involved as possible and give "the city something to be proud of." He'd like to include school children in parts of the project, and wants kids to be able to say: "I helped build that when I was in primary school." Will is also hoping to start displaying and selling his artworks in the Old Bond Store, of which he's recently become a member.
Get in touch
The easiest way to get in touch and see Will's work is on his Facebook or Instagram:
https://www.facebook.com/will.rosie.3

https://www.instagram.com/mrmosaicwill/
If anyone would like to come and help Will put up his mosaics up around Southampton he says he's "happy for people to come along and help install them."
When did Will involved with CHAOS?
Will has been involved with CHAOS for several years after he "kept bumping into" CHAOS founder Matt Salvage around Southampton. He came to his first meeting at God's House Tower a couple of years ago, and has been attending meetings whenever he can ever since.